While those of us in the industry talk at length about Online Travel Agents (OTAs), are they well known by the general public they target? With all the investment they have received and the millions of dollars at their disposal, have they actually done a good job in putting their brands into the minds of travellers and consumers? Does that even matter?
These questions came up when I was talking with family and friends at a recent get-together. I discovered that most have never heard of any of the big OTAs I mentioned, with the exception of a select few brands. Pretty much everyone I asked had heard of TripAdvisor, Airbnb, and Booking.com, but when I mentioned Viator, Get Your Guide, and a few others, they stared at me blankly…
This got me thinking: do OTAs do a good job at raising their brand profile or have they been so focused on just getting bookings through the likes of Google Ads that they've lost sight of the path to growing a successful brand: by becoming a household name.
Apple, Virgin, Google… all of these companies are household names for various reasons because they focus on the customer and experience, not the products.
For me, Airbnb is the only brand within our sector that has truly built its brand awareness without relying heavily on the likes of Google. They may not be at the top of people's psyche (as you will shortly see) but they have 'got it right' in terms of being on our mind when it comes to booking alternative accommodation. No one would search for an Airbnb accommodation on Google, but they would 'Airbnb it' directly on their app or website. They have arguably become the 'Google' of that sector. The same can not be said for likes of Tripadvisor or Booking.com. Far too many customers find products on these platforms after a Google Search.
Airbnb Experiences, on the other hand, has yet to gain the same momentum as the accommodation side of the brand offering, but I believe its time will come. The accommodation side of the brand took many years (launched August 2008) before they became a household name. That's 13 years of building a brand and not overly relying on other platforms like Google Ads, Facebook, etc.
This is why I still maintain that eventually Airbnb will 'WIN' the OTA battle for tours, activities, and experiences. The only potential spanner in the works might be a brand like Amazon but this is a long way off.
Consumers gravitate towards brands that focus on the consumer and not the products themselves. Airbnb has effectively built their brand tribe… and will continue to do so.
Consumers' perception of OTAs
Because we feel data should always lead the opinions and strategies at TMA, we conducted a survey (full version available to download for free here), asking consumers from across the US and UK if they know of any of the 'big' OTAs in our sector and what first springs to mind about each brand. It makes for interesting reading.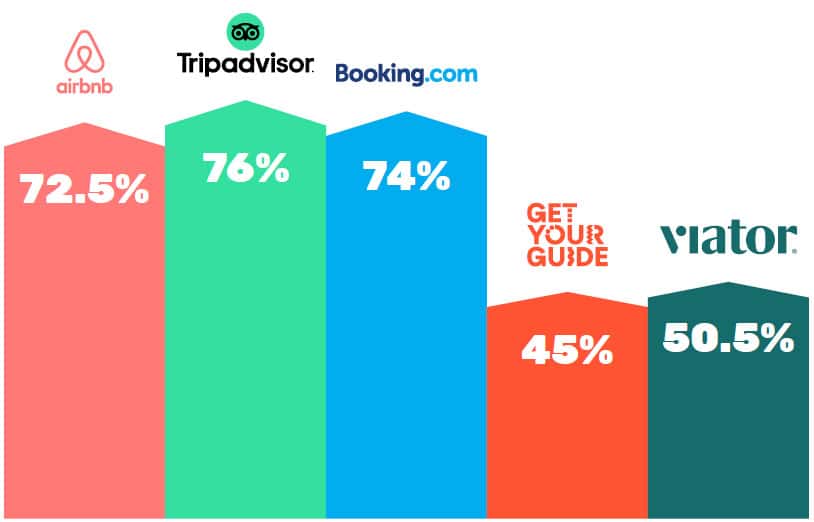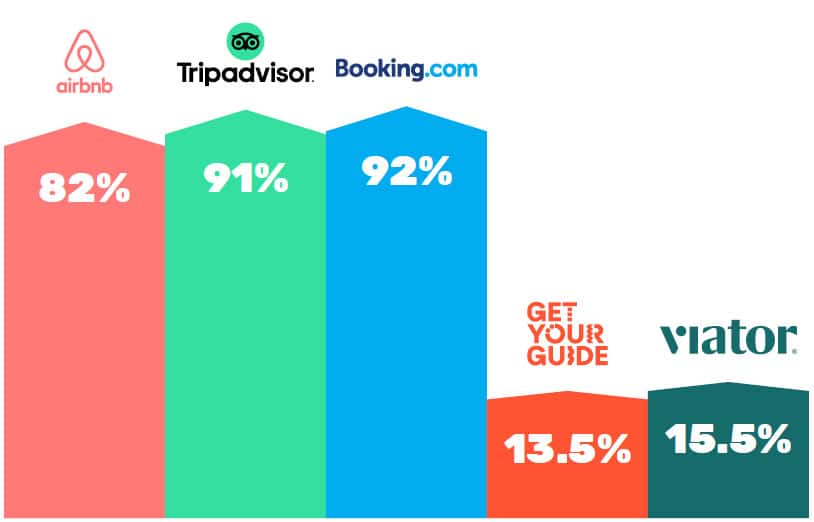 In the US, Tripadvisor tops the OTA list, closely followed by Booking.com and Airbnb. In the UK, however, Booking.com is the most popular, but only just, with Tripadvisor only 1% behind them. Airbnb is a close third.
In the US, both Get Your Guide and Viator are gaining ground, albeit slowly, but if you look at the UK, both brands are relatively small and in the case of Get Your Guide, I find this very surprising. I knew the other three would be more popular but I expected Get Your Guide to have a higher percentage. It does make you wonder what they're doing with the huge cash investments they've received over the years.
Now let's look at how consumers perceive some of these brands…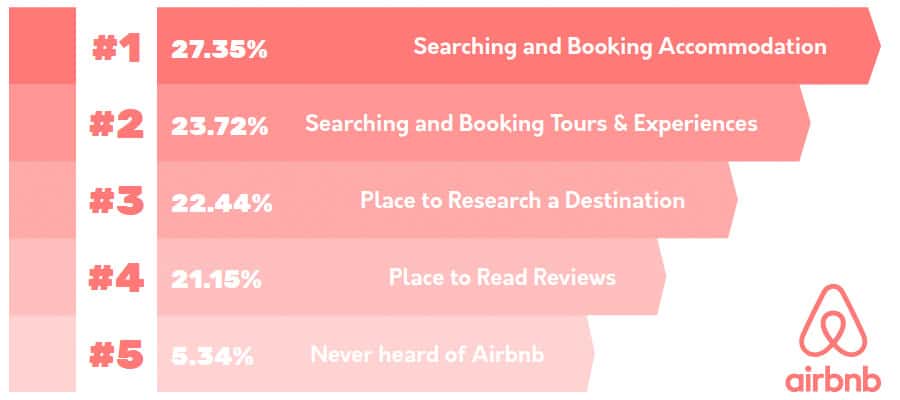 The number-one perception of Airbnb for consumers in the United States is to search and book accommodation, so no surprises there, but it looks like they are doing an excellent job of growing the experience side of the brand. In contrast, people in the UK don't really associate Airbnb with booking experiences.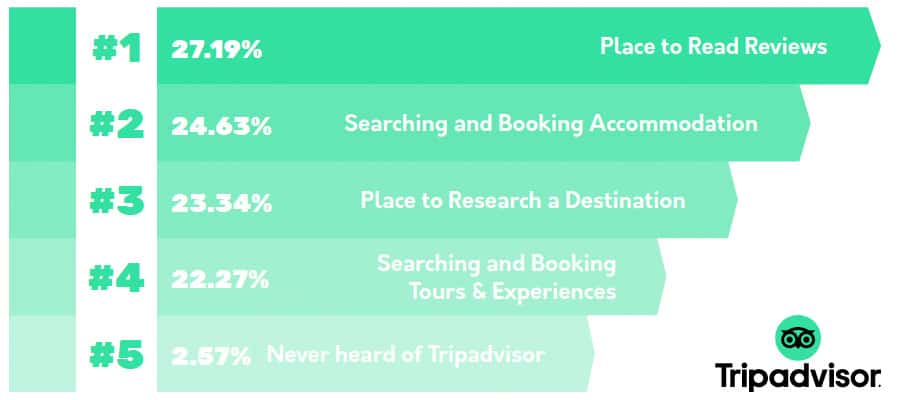 The top perception of Tripadvisor in the US is that it's used to search and book accommodation. So no surprises there, but researching a destination just pips booking tours and experiences in the United States. Surprisingly, reviews, which Tripadvisor is famous for, sits in 4th place, so perceptions are changing.
Unlike the US market, in the United Kingdom consumers' perception of Tripadvisor is that it is predominantly a place for reading reviews. Booking accommodation and researching a destination take spots 2 and 3, with tours and experiences being the least known on Tripadvisor in the UK.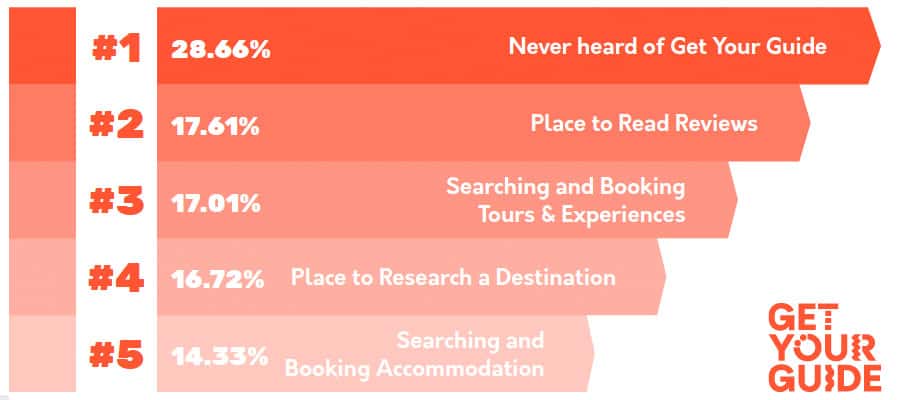 It is evident that there is something wrong with Get Your Guide's brand awareness and messaging in the United States. Researching a destination tops booking and experience, and the consumers surveyed think they can book accommodation – something this platform does not cater for!
In the UK, Get Your Guide's brand awareness is very small, with nearly 30% of consumers having never heard of the brand. For those who know the brand, it is primarily a place for reviews, then it is considered a place for booking an experience. Booking an accommodation comes up again, so something is not quite right in their messaging. If you want to see our full survey and stats on the other OTAs mentioned, you can download for free here.
What issues do OTAs have? (and what are the solutions?)
Going by the findings above, I still find it surprising that with the resources these OTAs have, consumers have little to no knowledge of the vast majority of them. Or, if they do, they know them for one area, such as reviews on TripAdvisor for the UK market.
They all focus their efforts and investor cash on Google Ads but all they are doing is feeding an already huge monster that has their own aspirations in this space. To truly stand on their own feet, becoming the type of brand Airbnb has become, they must refocus how they brand and market themselves, and they must do this quickly! Most have had two years of a pandemic to implement these changes but I think it is safe to say that the majority of OTAs have been stagnant in their efforts.
Where is the innovation from the big OTAs? Who made the decision to focus most of the online marketing on Google Ads? Why are some not a household name after all these years? If I was an investor, these are the questions I would be demanding answers to.
Get Your Guide's brand perception may also be confusing. Are they an OTA or an operator with their Get Your Guide Originals brand? Personally, I think consumers are finding it hard to work out what they are.
Shane Whaley at Tourpreneur highlighted that Get Your Guide released a series of ads on NYC TV. The ads are nice, but this ad campaign is a drop in the ocean compared to what they need to do. It is likely that these ads are probably either a test to see how effective they can be, or just a way to appease investors… or both… But at least it's a step in the right direction. Will it be successful? Time will tell, but it will take a vast amount of money, more years of better brand development, and more investment to make it work… And with Airbnb so ahead of the game in terms of brand equity… it may be a little too late in the game for some of the other OTAs.
Why you need to build a direct relationship with your customers
Building your own brand is vital to the long-term success of any business, whether you are a small, one-person company or a multi-million-dollar business. Without brand equity you are never going to gain the sort of traction that you should, or that is possible. This is why I am so surprised that most OTAs miss the mark in this area. They may have amazing tech, a massive library of products, shit-tons of money, and they even 'own' your customers' data. But do they truly own the customer's hearts?
Building a brand is everything. Without it, you are nothing more than a platform or brand that exists for the sake of existing, not because the consumer really wants you to exist.
"For me, 99% of OTAs have completely failed in tours and activities. Many of them have to rely on other partners, or each other, to grow their business, and not by becoming an established brand."
If you build that brand relationship directly then you stand a better chance of building your own tribe of fans and followers that will help spread the word about your brand.
Think about what Airbnb has done. When you think back, remembering a place you stayed at, most of us will not think 'That was a great accommodation that our host Jill had in Scotland' but you will say 'That Airbnb we stayed at last summer was amazing'. When a brand becomes synonymous with the product or service… then it has won.
The rest are just playing catch up, and from what I'm seeing, some are doing a pretty poor job of it.