Talking with Neil Lapping from Macs Adventure and Carron Tobin, the woman behind the Argyll & Isles co-operative, 2017's "Wild About Argyll" campaign, and the ongoing "The Heart & Soul of Scotland" campaign.
Following January's successful event in the stylish CitizenM, Travel Massive Glasgow met up in an arguably more stylish venue: the headquarters of Macs Adventure. Last week's big February event was a huge success and we'd like to take stock of the attendees, our guest speakers, and what everyone had to say. We had another great turn out, with a wonderful mix of business owners, marketing/tourism experts, and travel bloggers. Everyone enjoyed a glass of wine or two and some pizza before sitting down to the evening's talks.
Travel Massive Glasgow is Getting Massive!
The recent interview with Travel Massive HQ outlined how the Glasgow chapter's numbers continue to grow extremely quickly, so we must be doing something right. Ultimately, it comes down to TMA founder, Chris Torres, who is able to use his 26 years of experience in tourism to call in his industry contacts to speak at the events. Last month, we had Alex Bainbridge and Peter Syme — two very big names — and this week we had the pleasure of listening to Neil Lapping and Carron Tobin.
Neil Lapping
How I Grew a Successful Adventure Travel Business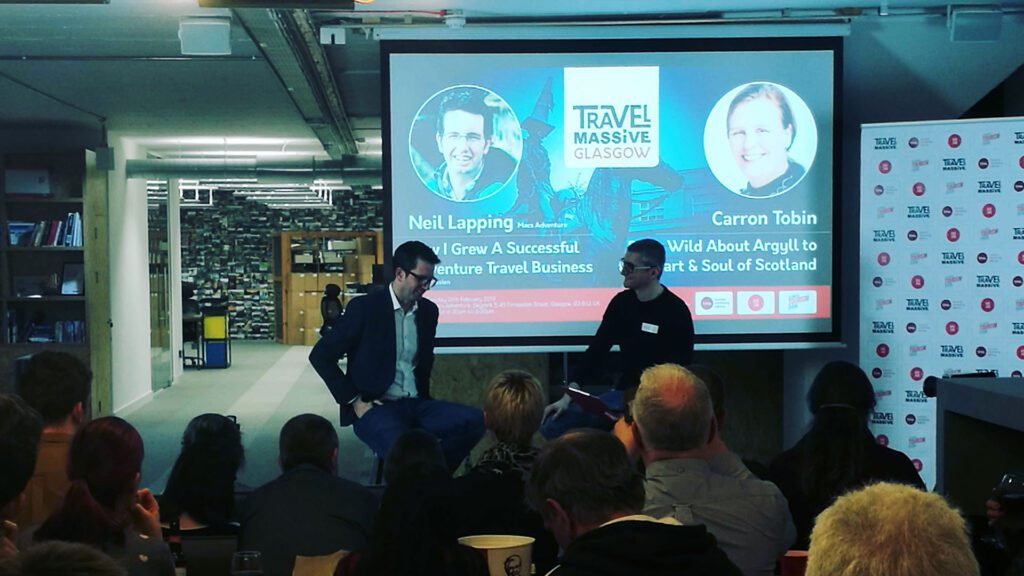 After Carron's talk, some people ate more pizza and networked, and the rest of us took a tour of the Macs Adventure office with its founder, Neil Lapping. Neil is clearly proud of his office, and it's easy to see why: the Macs Adventure office has some incredible features, such as a room comprised wholly of whiteboards, a dedicated quiet room (with seats hanging from the ceiling), and a huge wall with hundreds of pictures of the brand's happy customers. Everyone seemed suitably impressed with the tour and we were all ready and primed to listen to Neil tell us how he grew his successful adventure travel business.
The format for Neil's talk was a little different as it took the form of a very informal Q&A, where Chris Torres, our founder (and head of Travel Massive Glasgow), asked Neil questions. The crowd listened intently to Neil's story, learning how he'd moved from Cape Town to London, and then to Scotland. Neil talked about the romance of Scotland and how easy it was to get pulled in.
Neil had been involved in providing adventure tours in Scotland and he reckons that he's been up Ben Nevis around 135 times! It was when he was travelling around New Zealand that Neil realised how much better the Kiwis integrated their adventure tours and activities with their hospitality and transport services. When you stay in a hotel or a hostel in New Zealand, the concierge asks you what activities they can book for you for the following day, and the entire experience is seamless. Inspired by New Zealand, Neil saw the potential for Scotland to perform just as well in the adventure travel sector and he sought to create an adventure travel company in Scotland that offered a richer, more convenient experience. 
Neil told us about how he built his first website himself, and how important it was when he had Chris Torres build his second website. This newer, much better-looking website, and Neil's early adoption of a booking platform were two of the biggest reasons for Macs Adventure early success. Neil went on to explain how his company grew over the years.
One area he emphasised as particularly important was paid search. PPC, Neil explained, has helped him reach exactly the right audience and he recognised how important it is to be willing to spend money on PPC. He explained how investing in content resulted in more conversions, higher relevancy, and a kind of virtuous cycle (opposite of a vicious cycle) where the cost-per-click of paid search ads lowers over time. Essentially, the more people you reach and convert with paid search, the cheaper paid search is! This was music to our ears here at TMA as we've put a lot of time and money into developing our PPC service.
Neil went on to talk about how important trust was to the growth of Macs Adventure and how the continued hard graft to extend and diversify the range of adventure tours they offered has allowed him to reach more and more customers. Neil also emphasised the advantages of having offices in Germany and the US and how important it was for Macs Adventure to establish a robust review system on their site. As with Carron, there's just too much to summarise in this blog, but we recorded the entire talk, which you can watch here.
There's no upper limit to the number of people we want to come along to Glasgow Travel Massive. We are stronger and better the more of us there are, so please come along to the next event on Tuesday the 26thof March — and bring someone new along with you! March's event will feature Glasgow Science Centre's Rosie Street and Jack McKenna, a technology consultant for the CYBG Accelerator.
March's event is going to be great and we'd love to get as many people as possible, so make sure sign-up in advance so that we know how many people are coming. We're looking forward to next month and we can't wait to welcome even more people to the Glasgow Chapter! In the meantime, if you have any follow-up questions about the event, or about digital marketing in general, please don't hesitate to get in touch.
Need more free advice?
Chris and his team will send you a weekly email offering high-value insight and advice about a variety of marketing and business development topics related to the tourism industry. We address specific destinations, tours and activities, and the hotel industry. We also provide important travel industry news and updates.