Travel Massive Glasgow provide monthly events to grow and inform the tourism sector in Glasgow.
The Glasgow Travel Massive aims to provide a supportive and welcoming community where travel enthusiasts and professionals can get together to discuss travel trends, improve skills and build meaningful relationships in a fun and inclusive environment.
Our regular events are open to anyone involved in, and passionate about travel and tourism including individuals, businesses, entrepreneurs, bloggers, vloggers, photographers, media, travel brands, industry enthusiasts, tour operators, hospitality professionals and PRs.
Join our community and gain access to attend our confirmed upcoming free events in 2020…
Tuesday 25th February 2020
Vikki Bruce, MacLean & Bruce – Creating Tailor Made, Luxury Whisky Tours for International and Royal Guests
Joshua Ryan-Saha, University of Edinburgh – How Data, Big or Small, Can Help Grow your Tourism Business
Tuesday 31st March 2020
Emma Jamieson, The Edinburgh Dungeon – How The Edinburgh Dungeon Had Kept Scaring Visitors For 20 Years
Jessica Gregory, Arival – Tours, Activities & Attractions: Ten Trends for 2020 and Beyond
Tuesday 21st April 2020
Chris Newlands, Spelfie – How Taking Selfie's from Space has Grown my Business to Stratospheric Heights
Peter Syme, Disrupt Travel – Startup Scene inTours and Activities. The Good, the Bad and the Ugly.
Tuesday 26th May 2020
Chris Wain, Unique Adventure Tours Scotland – Starting a New Tour Business in Scotland… the Pitfalls, Challenges and Successes
Patrick O'Shaughnessy, Visit Scotland – Digital Marketing Dundamentals… be Visible in Those Right Moments.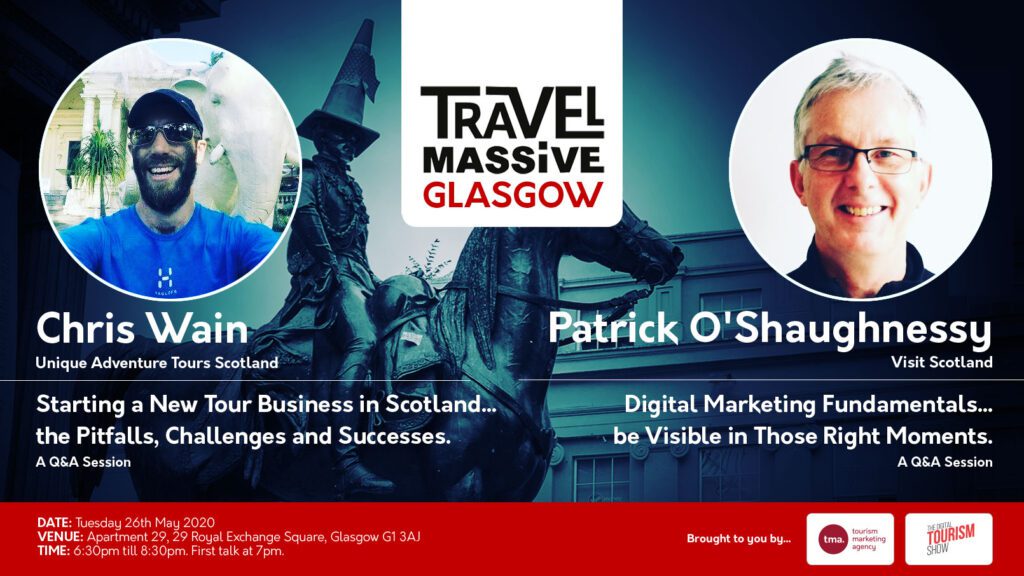 Tuesday 30th June 2020
Peter Trowles, Cultural Perspectives – The Cultural Rebirth of Glasgow and How it's Perceived Internationally
Paul Semple, General Manager of Waverley Excursions Ltd – What it Took to Preserve The Waverley, the World's Last Seagoing Paddle Steame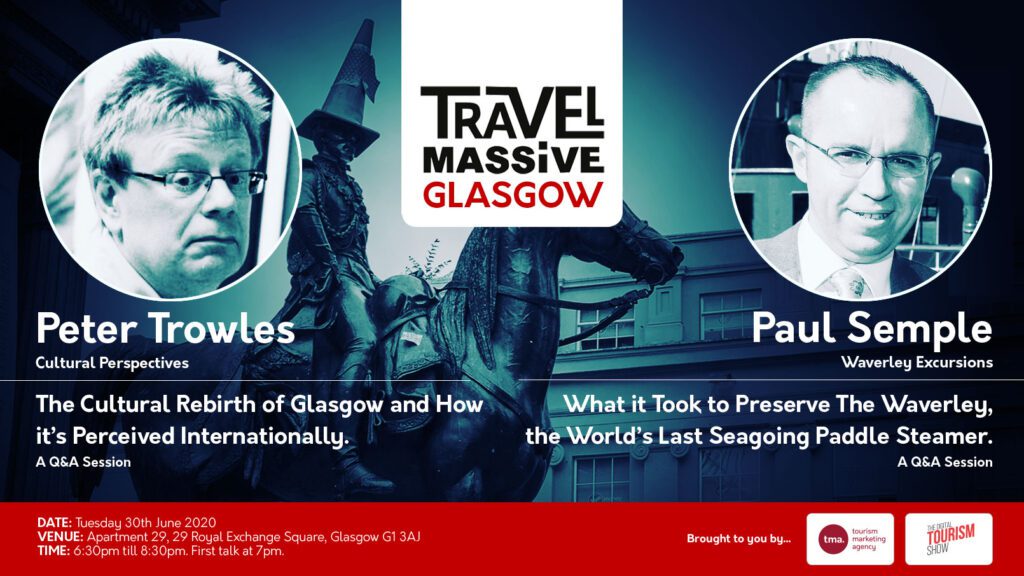 Tuesday 28th July 2020
Cat Leaver, Brand Scotland – How Brand Scotland are Shaping the Destination in 2020 and Beyond
Gemma Armit, Two Scots Abroad Travel Guides + Make Traffic Happen – The Art of Public Speaking and How it Can Help Grow Your Tourism Business
Need more free advice?
Chris and his team will send you a weekly email offering high-value insight and advice about a variety of marketing and business development topics related to the tourism industry. We address specific destinations, tours and activities, and the hotel industry. We also provide important travel industry news and updates.