Following last month's successful event at Clydesdale Bank's Centrum Offices on Queen Street, the Glasgow Travel Massive met up at another great venue and had the most well-attended event yet!
We gathered at The Clydeside Distillery and enjoyed a brief whisky tour, followed by two Q&A sessions. The first Q&A was with 'Watch Me See' blogger Kathi Kamleitner and it focused on The Importance of Blogging & Approaching Influencers. The second Q&A was with The Clydeside Distillery's manager, Bridgeen Mullen, and it focused on Creating a Five-star Customer Experience & Exceeding Expectations. We're sure that the great turnout had a little to do with the free whisky tour carried out by The Clydeside Distillery, but it's also part of a general pattern as the Glasgow Travel Massive continues to grow! Keep reading for a rundown of April's big event and to find out what you can expect in May!
A WHISKY TOUR OF THE CLYDESIDE DISTILLERY
When Travel Massive Glasgow guests arrived, we were treated to a whisky cocktail and some canapés before we were given a short tour of The Clydeside Distillery. We learned about the distillation process and a little background about 'Glasgow's first dedicated single malt distillery in over 100 years'. This tour was great and it's clear why The Clydeside is getting such incredible reviews — but more on that later…
Kathi Kamleitner — Watch Me See
Our first speaker of the evening was Kathi Kamleitner. As usual, our founder, Chris Torres, asked the questions, and he then opened up the discussion to the audience. Kathi gave us a little background about herself: she started writing in 2013 and she was a regular writer for a magazine aimed at women travellers. Then, when Kathi moved to Scotland, she started her own Scotland blog: Watch Me See. Over the years, Kathi has travelled all around Scotland, writing blogs and travel guides along the way. But this hasn't been a casual travelling blog; Watch Me See has built up a strong following and Kathi has worked hard to turn it into a viable business. She has done this partly by working with other travel businesses and much the Q&A discussed the best way for bloggers and businesses to work together.
Kathi explained that working with bloggers can allow you to access their audiences — specific groups of people you perhaps couldn't reach through any other marketing channel. If a brand has a specific part of their identity that they want to push, if they work with the right blogger, then this can emphasise this message in a clear and authentic way. Bloggers can also help with specific hashtags and help reach even wider audiences. While there are several bloggers in the Glasgow Travel Massive, there are more marketing managers and business owners, so it was refreshing to hear from the blogger side of things.
When asked how often companies should write blogs, Kathi emphasised the importance of quality over quantity. She also recommended that you make sure the blogs you post make sense when they are posted, that your blogs match with the seasonality of the tourism topics you're discussing. She also said that the reason content often dies on a website is usually because it goes out of date and she emphasised the importance of going back and updating your content as new information comes out.
Kathi also discussed some of the work she's done over the years. It was fascinating to hear about her projects and how engaged she is with different companies throughout Scotland. She discussed videography and how it informs her writing — teaching her how to condense the information in her written work into only what the audience needs to know.
Bridgeen Mullen — The Clydeside Distillery 
The second speaker of the event was Bridgeen Mullen, the manager at The Clydeside Distillery. Bridgeen is a natural storyteller and the audience listened intently as she discussed the challenges that came with starting up The Clydeside. Due to the iconic nature of the amazing building, The Clydeside enjoyed a lot of initial PR, but before they could take full advantage of this, they needed to get their Visit Scotland 5-star rating. Bridgeen explained that she had previously not understood how much time these kinds of things take and she emphasised how important reviews and entities like Visit Scotland are to having a successful tourism business.
Bridgeen told us about the exclusive hard-hat tours they ran long before the distillery was up and ready for the general public in 2017. Rather than resting on their laurels, waiting for the big opening day, The Clydeside organised 'hard-hat tours' where guests could find out more about the project when it was still in the building phase. Guests would don a hard hat and explore the building site with their guide. Bridgeen explained that these hard-hat tours were key to generating a lot of the buzz as they allowed influential people into the building long before it was ready for the general public. This kind of forward thinking has allowed The Clydeside to hit the ground running in Glasgow's tours and attraction scene.
Bridgeen discussed the recruitment process, explaining that it was a huge, but vitally important, task. Criteria for the new Clydeside Distillery jobs included experience working with the public, a love for whisky (obviously!), and the ability to speak a second language. The language criterion makes a lot of sense, as so much of the tours and activities sector involves working with tourists from all over the world. One or two additional languages, beyond English is a massive boost to the Clydeside's customer service. Bridgeen also explained at the end of the talk that it's about getting the right people that are passionate and sincere in the work they do.
When asked about PR and engaging with new customers, Bridgeen explained that the website and social media have proven key, and that really great photography is also vital. With all of The Clydeside Distillery's content marketing, it was interesting to hear that the process of making the whisky was the topic most people responded to.
In the Q&A, Chris acknowledged The Clydeside Distillery's excellent reviews and asked Bridgeen if she had any tips for the audience. Bridgeen explained that she is always thinking about what the customer feels at different stages of their journey. The Clydeside let customers in early — even before they officially open, and they also offer the dram at the end of the tour in a jar in case the customer would prefer to take it home. They will also never put the chairs up until after the last customer has left. These little touches can make a big difference and have directly contributed to The Clydeside Distillery's impressive 5-star reviews over a relatively short time period.
May's Big Event – Ask the Experts Anything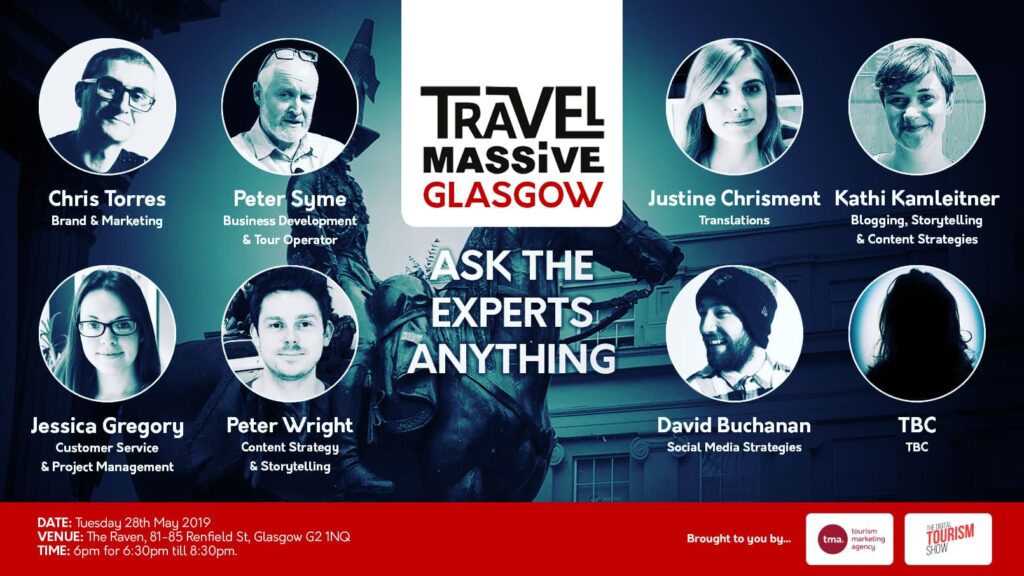 As successful as April's Travel Massive Glasgow event was, we want the next one to be even better! We're still in the process of adding the final guest, but you can expect a fully interactive conversation with a wide range of tourism marketing professionals. With this event we are celebrating 6 months of Chris and Jessica running Travel Massive Glasgow in which they have grown the chapter to reach position 10 out of 157 Travel Massive chapters across the world. True testament to their commitment and the content they provide.
We wish to also thank all our mrmbers for making this a great success so pop along for food, drink and good chat.
The event will be on Tuesday the 28th of May at The Raven on Renfield Street. It starts at 6pm and should go on no later than 8.30pm. You can register for May's event here.
Need more free advice?
Chris and his team will send you a weekly email offering high-value insight and advice about a variety of marketing and business development topics related to the tourism industry. We address specific destinations, tours and activities, and the hotel industry. We also provide important travel industry news and updates.