Last night, Travel Massive Glasgow kicked off 2019 in style by moving to a new venue: the Screening Room in CitizenM.
This stylish venue was a welcomed change from TMA's office — which is a little too small for the growing crowds of people joining and attending Travel Massive Glasgow's monthly events. The increased numbers are due to the increased momentum of the Glasgow Chapter of Travel Massive, but they were also no doubt down to the reputation and prestige of our guest speakers: Alex Bainbridge and Peter Syme.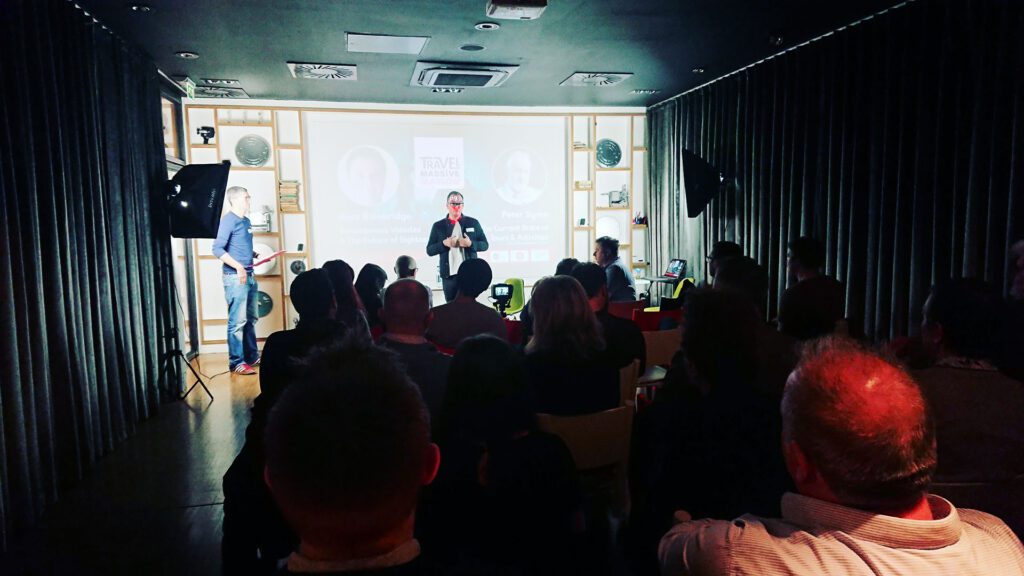 A Very Special Guest: Ian Cumming
Last night, we were extremely fortunate to welcome Ian Cumming, the founder of Travel Massive! Ian introduced himself and told us about how his interest in travel and technology inevitably led to founding Travel Massive.
It began with a tweet in 2010, in Sydney, when Ian asked if anyone wanted to meet and discuss tourism over a few beers. Five people turned up on that first night, ten people turned up the next month, and then 20, and so on… Eventually, it was obvious that there was a real need for people and business owners working in the tourism industry to network and share their knowledge. And thus, Travel Massive was born.
It was a privilege to have Ian attend our event and we hope we was pleased with how the Glasgow Chapter is progressing.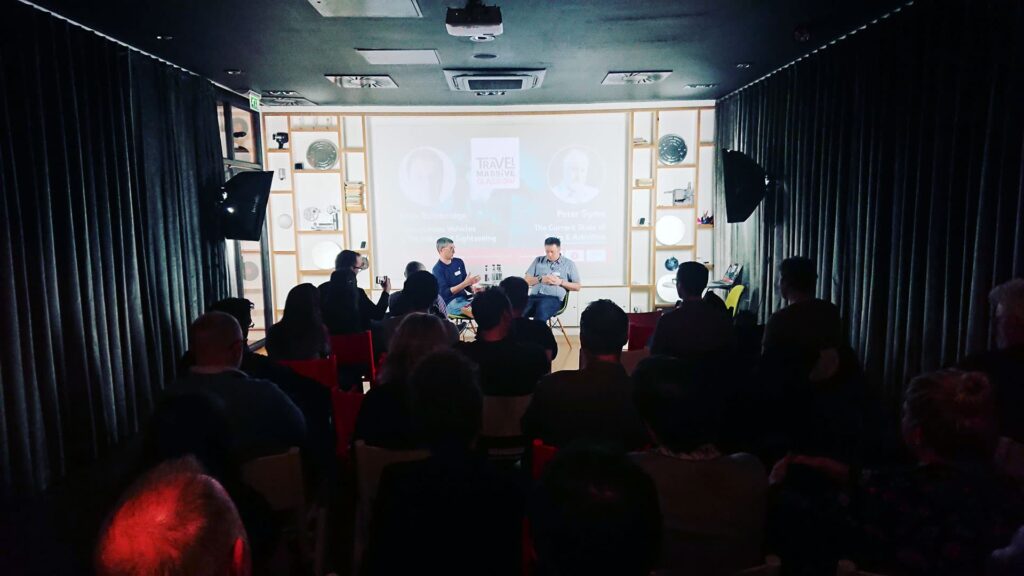 Alex Bainbridge — Autonomous Vehicles & the Future of Sightseeing
The first talk of the night was delivered by Alex Bainbridge. Alex is a huge name in the tours and activities industry; he founded TourCMS, a trailblazing piece of software designed to connect tour companies with travel agencies. TourCMS has been incredibly successful over the last few years; in fact, it was the first reservation system used by some of the industry giants, such as Expedia, GetYourBeds, and HotelBeds. Recently, Alex sold TourCMS in order to dedicate his time and expertise to his next exciting venture: Autoura.
Autoura is Alex's next big idea and it specialises in autonomous vehicle sightseeing. Alex has an incredible wealth of knowledge about the world of autonomous vehicles and how they are destined to impact the tours and activities industry. The entire talk and follow-up questions lasted over an hour, so it is impossible to adequately summarise everything that was discussed.
Most guests attending seemed surprised that autonomous vehicles were going to appear on our roads within the next year or two, and that they would heavily impact the tours and activities industry within the next three to seven years. The talk was incredibly enlightening, practical, and very entertaining; Alex is always focused on the final user's experience, so everything he said referred back to the final products we, as tour operators, offer customers.
Alex has a fantastic perspective on anything connected to the tourism industry and it was great to have him travel up to Glasgow for the event.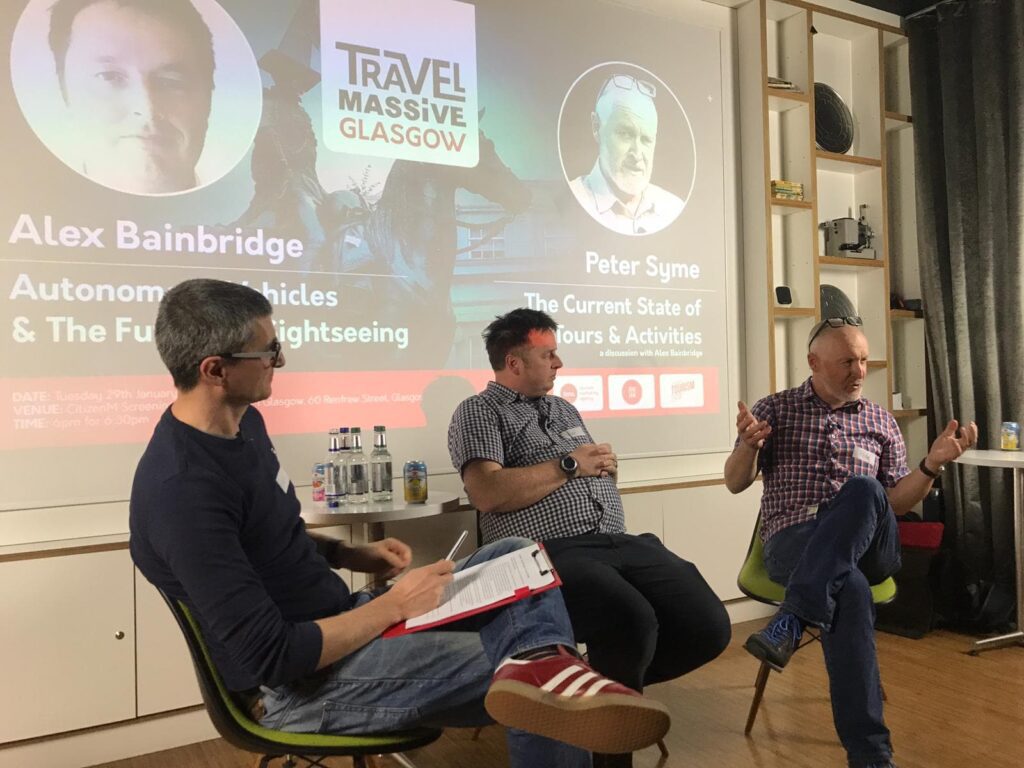 Peter Syme — The Current State of Tours & Activities
Peter Syme was our second speaker of the evening, and he was joined by Alex and Chris Torres (TMA's founder). Peter has been involved in the adventure tours sector for 34 years — ever since he started working as a tour guide as a teenager. Peter owns several different adventure tour businesses, including 1000 Mile Journeys and Splash White Water Rafting.
Peter is an outspoken commentator on the tours and activities industry, and he has made a few splashes of his own when he has spoken at various industry events, such as the recent Arival convention in Las Vegas.
In last night's discussion, Peter focused the discussion on Scotland, making sure to offer plenty of insight and value for anyone running a tourism business in Scotland. Peter discussed the current state of Scotland's tours and activities industry, and he explained how it is likely to change over the next few years. We can expect huge influxes of visitors from the ever-growing middleclass in China, and we need to make sure that Scotland is ready to make the most of this opportunity.
Peter explained that Scotland's tourism industry has higher service ratings than any other country — and this is a figure that all Scottish tours and activities companies should be proud of. However, Peter also explained that while Scotland is great at tours & activities, it is not great at the technological side of the industry — especially in relation to digital marketing.
Too many Scottish tourism business have poorly performing websites and they often fail to take full advantage of Facebook advertising, PPC, and search engine optimisation. While online travel agents (OTAs) are a great way to access potential customers, they can't be only way to bring in business — otherwise, a change to an algorithm could cause you to drop down an OTA's rankings, losing all of your incoming bookings.
Peter had a lot more to say, and Alex Bainbridge also contributed a lot to the discussion.
Videos of both discussion will be online in the comming weeks.
The Tourism Marketing Agency is extremely pleased with the way Tourism Massive Glasgow is growing and evolving. If you attended the event and have been inspired to work on your digital marketing strategy, please feel free to get in touch. February's Travel Massive Glasgow event will take place on the last Tuesday of the month: February 26th. The first speaker is Neil Lapping, the owner and head of Macs Adventure, and the event will actually be held at Macs Adventure's HQ at Skypark Glasgow. We have yet to confirm the second speaker for the event.
We hope to see even bigger numbers at the next Travel Massive Glasgow event, so please remember to register and sign up to let us know you're coming!
Need more free advice?
Chris and his team will send you a weekly email offering high-value insight and advice about a variety of marketing and business development topics related to the tourism industry. We address specific destinations, tours and activities, and the hotel industry. We also provide important travel industry news and updates.