The Glasgow Chapter of Travel Massive had another successful monthly event last night — this time at a brand-new venue: Everyman Glasgow.
The turnout was great and we had two great speakers and plenty of lively discussion. For those who missed it, we'd like to summarise some of what the speakers said last night and to reflect on the evening — hopefully encouraging a few readers to attend August's TMG event, which will be held on the 25thof August, at Cathedral House at 6.30pm.
A Wee Note About Everyman Glasgow
Everyone who turned up for last night's event was suitably impressed with the venue. It is a specialist cinema on the ground floor of Princes Square, on Buchanan St. The food was great and the general atmosphere was a perfect fit for our event. There was plenty of conversation and debate in the bar before we went into the luxurious cinema screen room. The manager told us about Everyman and opened up a short Q&A to the ever-curious Travel Massive members. You can read more about Everyman and decide whether you want to organise a corporate event there, a big birthday party, or just attend a film screening.
Andy McCluskey — How to Grow a Successful Campervan Rental Business in Scotland
After Chris's presentation, it was a nice change of format to have a Q&A with our next guest: Andy McCluskey. Andy is the founder and owner of Open Road Scotland, one of the leading campervan, motorhome, and motorcycle rental services in Scotland. Despite the company's fleet of 19 campervans and motorhomes, it is a very small team, with Andy overseeing most of the work himself. It's a business model that makes the most sense when run by the owner, so it was fascinating to get Andy in to answer a few questions.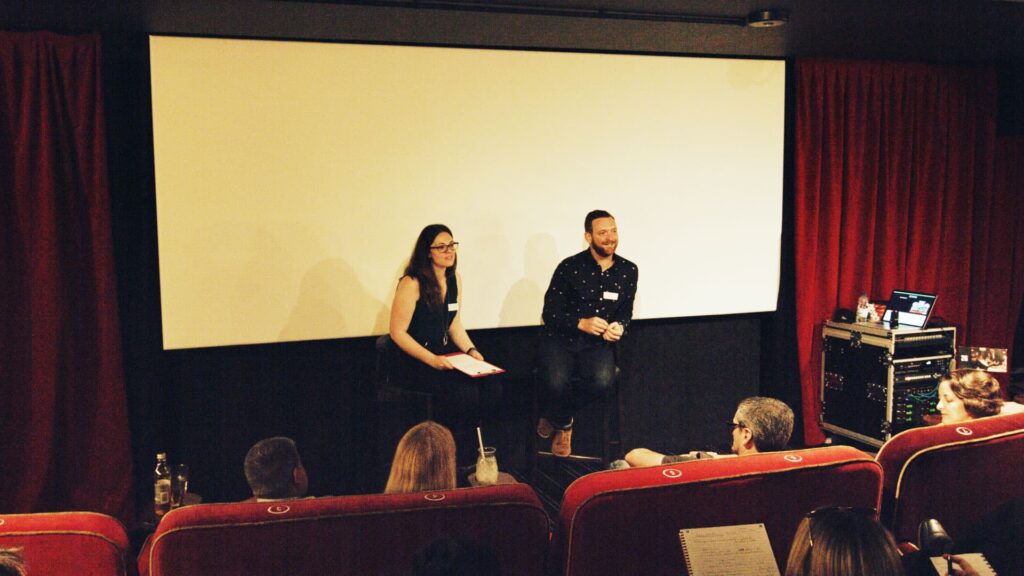 As Chris was a little under the weather, our other chapter leader, Jessica (Jess) Gregory, asked Andy about his business. Open Road Scotland has been running for 13 years now and Jess asked if there was a secret to its success. Andy explained that the biggest contributing factor to the business's success has been the company's personal touch. While he doesn't have a lot of employees, there are a lot of freelance and temporary staff and the personal touch ethos is passed along the chain, at every step of the customer's journey.
There were several other motorhome and campervan hire business owners there and Andy's advice to them was to work with other companies that you might see as competitors as you can help each other out if you're at capacity or have breakdown and need another vehicle at a moment's notice. Andy also emphasised how important it had been for Open road Scotland that he never stood still — that he was always looking for ways to improve the service, to add a new feature or vehicle, and to improve his website.
Andy discussed his marketing efforts and how he dedicated his budget and his efforts purely to digital marketing. He explained that delegating most of that work to the Tourism Marketing Agency has been very successful as he realised he just doesn't have the time or the knowledge to take every aspect of digital marketing on while also trying to run the company.
After a lengthy chat with Jess, Andy opened himself to questions from the floor and a healthy chat ensued for another 20 minutes of so. Andy knew his business inside and out and the knowledge and astute observations of the Travel Massive members really came to the fore.
That's all we have time for today. We hope we've helped a few members who missed the event get caught up (and that you regret missing it…) and we hope we've encouraged even more people to attend next month's event. In August, you can look forward to Deborah Macken, whose Q&A will be about 'Growing a Successful Accommodation Business with Sustainability in Mind' and Laura McKenzie, who will discuss 'Rebuilding Trust: Trials & tribulations of purchasing a hotel with a bad reputation'. Sign-up to the event today and stick it in your Google calendars so that you don't forget!
If anything discussed in the blog has inspired you to start working on your digital marketing and you'd like to work with the Tourism Marketing Agency, then we encourage you get in touch; we are always happy to hear from new businesses.
Need more free advice?
Chris and his team will send you a weekly email offering high-value insight and advice about a variety of marketing and business development topics related to the tourism industry. We address specific destinations, tours and activities, and the hotel industry. We also provide important travel industry news and updates.