Following the successful February Travel Massive Glasgow event at the incredible Macs Adventure office, we met up last night for Travel Massive Glasgow's big March event at Clydesdale Bank's Centrum Offices on Queen Street.
We spoke to Jack McKenna from CYBG Accelerator; Jack told us all about how he used 'Design Thinking' to create a truly unique augmented reality travel app that recently won an award.
Jack McKenna — CYBG Accelerator
Design Thinking for Innovation in the Travel Space
Jack McKenna was very quick to tell the crowd that he had no previous experience in the travel and tourism sector before he started working in CYBG, in its Accelerator team, but he suggested that having no preconceptions about the travel sector actually helped him approach his new job with an open mind. Jack came from a digital background and he was tasked to develop a product that would help CYBG's customers when they were travelling. Jack decided to use an approach called 'Design Thinking' and he talked us through the process — from the blank page to the final product: an augmented reality currency converter app called B currency that allows you to point your phone's camera at any foreign currency and it converts the cost into your home currency in accordance with real-time exchange rates. Just last week, B currency won 'Most Innovative Product of the Year' at the FStech Awards 2019.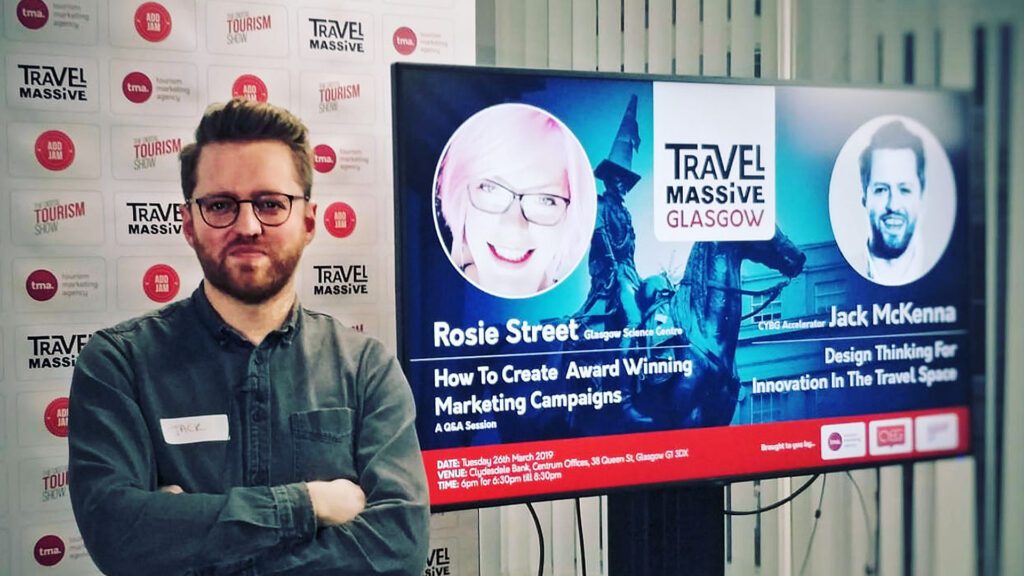 It was fascinating to hear about Jack's 'Design Thinking' approach. It is an iterative approach that seeks to understand the end users' needs right at the start of the process. Spending enough time discovering the customer's journey, their pain points, was key to figuring out what kind of product the Accelerator team would create — and it was key to ensuring that the product would be successful. After distilling over 100 potential customer pain points and solutions, the Accelerator team distilled this list further, into a list of six potential products, one of which was B currency. They spent some money on Google Ads and made note of which of the six ideas on the website proved most popular with users.
User behaviour on the website told Jack exactly which product would be the most popular. Jack and the Accelerator team were then able to create the B currency app in just 4 weeks — which is incredible — and they began testing it, figuring out any issues it might have. The end result was a fantastically useful app for CYBG customers that also provides a platform to advertise other travel and finance-related products.
It was fascinating to hear about Jack's 'Design Thinking' approach, but it was far too complex and comprehensive to do justice to in this blog. Jack finished his talk by saying that he discovered that 'travel is ripe for disruption' and he advised us to 'learn to love our problems' when we're trying to develop a product. This was a truly useful talk and we're sure everyone in the audience will carry on thinking about Jack's talk and the B currency app for days afterwards. If you're interested in downloading the app, you can find it on the Apple App store.
Next month, we'll be talking to Bridgeen Mullen from The Clydeside Distillery and Kathi Kamleitner from Watch Me See. The event will take place at the Clydeside Distillery and guests will also be taken on a short tour of the distillery! If you have any questions about Travel Massive Glasgow, or if you'd like some help with your SEO, PPC, content marketing, and social media, then please feel free to get in touch!
Need more free advice?
Chris and his team will send you a weekly email offering high-value insight and advice about a variety of marketing and business development topics related to the tourism industry. We address specific destinations, tours and activities, and the hotel industry. We also provide important travel industry news and updates.