Madrid… what a great city. Last week, I had the honour of speaking to the audience of Landing Madrid, which runs alongside the FITUR conference.
On top of speaking at Landing, I was also on the judging panel. I had a great experience and I learned a lot. I also hope that I added plenty of value by sharing some of my own insights with everyone who attended. With this blog, I'd like to take stock of my experience at Landing 2019, to reflect on the talk I gave, and to highlight some of my favourite tourism videos.
What is Landing-Madrid?
Landing was a week-long event created to celebrate the best destination tourism videos from across the world. There was a conference element to the event, but it also finished with an awards ceremony at the Madrid stand of FITUR. Landing is, essentially, a great way for anyone producing videos for the tourism sector to receive the recognition they deserve, and for the influential people within the industry to meet up and swap ideas.
My Presentation at Landing
Being the very first speaker, I had the pleasure of opening the event with my workshop "Why we should use video in tourism marketing". I was speaking to a large Spanish audience and was a little nervous about getting my message across clearly. Luckily, the audience members were equipped with earpieces provided by two fantastic translators who understood my Scottish accent well. Apparently the English speakers understood my accent as well… thankfully!
My workshop highlighted the importance of video and how one piece of footage can inspire someone to become a loyal follower of a tourism brand. Loyal brand followers are still an invaluable part of marketing and a well-made video can inspire your audience. I referred to my own experience, when I visited Japan and had a fantastic experience with the tour company I booked with, after watching a video they had produced. 12 years later, the business I booked from still receives referral business from me. All off the back of one video.
As well as showing a range of illuminating statistics, I provided a guide on how you can create around 65 marketing touchpoints and content form one video. This went down so well that I have been asked to do a full workshop on this particular topic next year. Given that Madrid is one of the best cities I've ever visited, I certainly don't mind returning next year…
The Other Speakers at Landing Madrid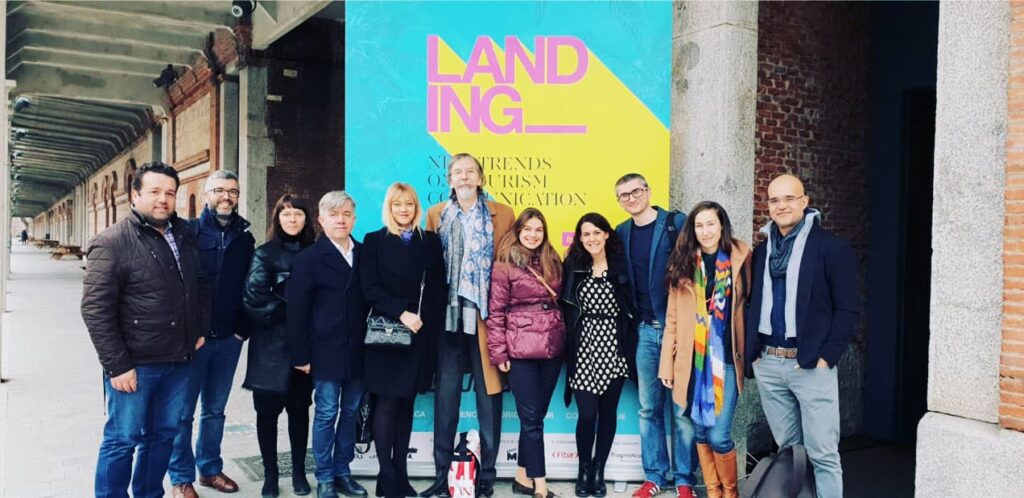 The best thing about attending Landing was that it gave me the opportunity to to meet some really impressive people who create videos for the tourism industry. I had the pleasure of hearing some amazing speakers, including Aina Cortina, of DEC BBDO in Barcelona. Aina showcased some great examples of tourism videos and trends. Theo Papadoulakis, filmmaker at Indiego View in Crete, showcased some of his amazing work. His video on the Incredible Hospitality of Crete was a particular highlight of mine:
On day three, Theo also provided a workshop on the 'Art of Storytelling' and he offered many great insights and examples. Although not tourism related, one of his videos, entitled 'Brother', was a stunning display of creative storytelling and I was not the only one who had a lump in my throat by the end…
The team at Landing Madrid did an amazing job running the event; the entire event's success is a testament to the hard work and professionalism of Hugo Marcos, Alexander V. Kammel, and Santi Valldepérez. Not only did the Landing team do an amazing job of running the event, they even treated all the speakers to a traditional flamenco night (which I absolutely loved).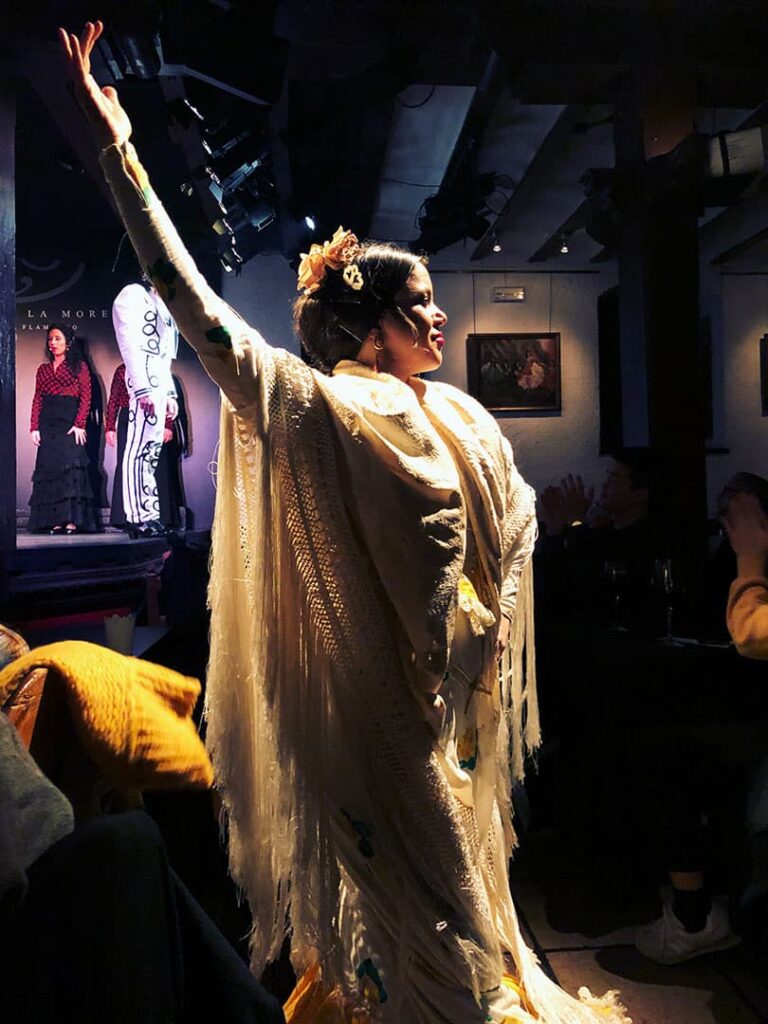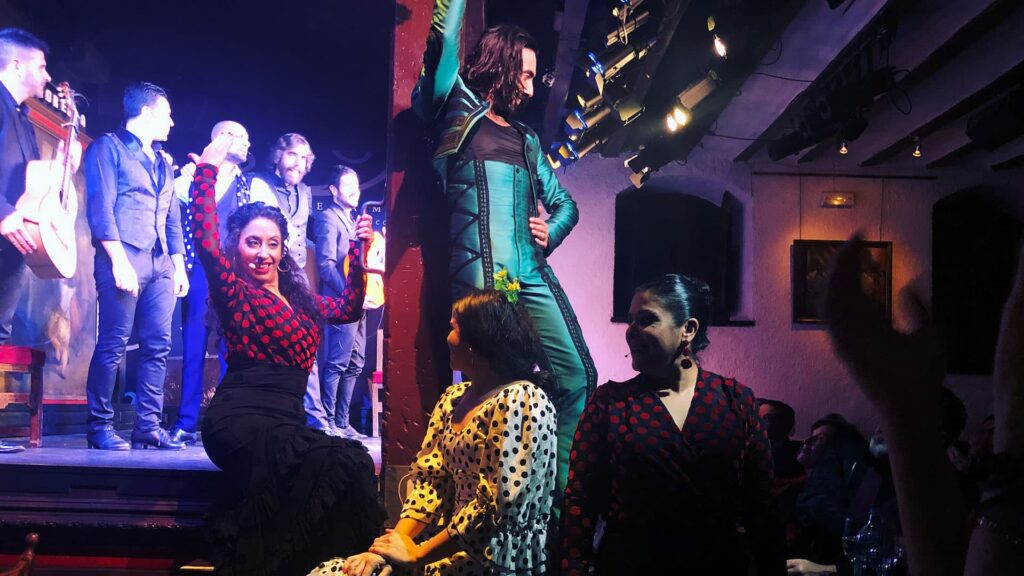 Judging the Awards at Landing Madrid
After the conference portion of Landing, I was tasked with judging the vast number of video submissions. Two stood out for me, both of which went on to win an award in FITUR.
'Dinner With Georgia' was produced by the talented Ringailė Leščinskienė of Funky Production House. It was a fantastic piece of storytelling with a very creative concept to back it up. The video tells the story of how they identified the 6 millionth visitor to Georgia, arriving by airplane, and caught them by surprise, giving him VIP treatment and dinner with the Prime Minister.
'The World's Most Honest Tourism Video' was my second favourite. It highlighted Madhya Pradesh in India. This video used a series of real tourist photographs in an amazing, creative way. I challenge you not to smile during this video. Such a fun, entertaining promotional piece.
I showed my children this video and, days after seeing it, they are still signing the theme tune. That is a mark of a great video!
For me personally, both of these videos were great for their own reasons. Incredibly creative, and they both make fantastic use of storytelling to get their messages across.
All the submissions were whittled down to 5 winners:
Best Spanish Tourism Film by Region: Gran Canaria, Fairytale Island
Best Spanish Tourism Film by City: Alcalá your Destination
Best Tourism Film by Country: Dinner With Georgia (see Above)
Best Tourism Film by Region: The World's Most Honest Tourism Video (see Above)
Best Tourism Film by City: Quito my Story
A Grand Prix winner was also announced and this went to 'Croatia's Tourism Ambassadors':
Overall, Landing Madrid 2019 was a fantastic event that showcased some amazing, talented filmmakers from across the world. I met a lot of great people, learned a lot from them, and I can't wait until I land in Madrid again.
If reading this blog has inspired you to start working on your own video, or some other kind of creative marketing activity, and you'd like a little help from me and the team at TMA, please feel free to get in touch. We're always happy to hear from new tourism brands!
Need more free advice?
Chris and his team will send you a weekly email offering high-value insight and advice about a variety of marketing and business development topics related to the tourism industry. We address specific destinations, tours and activities, and the hotel industry. We also provide important travel industry news and updates.