We had another successful event here at Travel Massive's Glasgow Chapter and this blog will hopefully catch a few people up who wanted to attend but couldn't — and I hope it will also encourage one or two people who have never attended an event to come along to the next Travel Massive Glasgow meetup in November.
The Glasgow Chapter is growing every month and we are extremely pleased to announce that we have climbed to 6th place in the global travel massive rankings, putting us just below New York and above Dublin, San Francisco, Edinburgh, and Bangkok. We're putting our success down to the dedication of our members who attend every month and the quality of our quest speakers — and September's speakers were two of the best yet: we listened to (and questioned) Wes Beard from Total Chatbots and David Bulloch from Travelport!
Debunking Myths About Chatbots — Wes Beard from Total Chatbots
The first speaker of the evening was Wes Beard, the Sales Director at Total Chatbots — a chatbot specialist company based in Clockwise Offices on Renfrew Street. It was fantastic to get Wes in to talk to us about chatbots as it's an undeniably relevant topic for the tourism industry and it was extremely useful for our members to be able to ask practical questions and receive practical answers.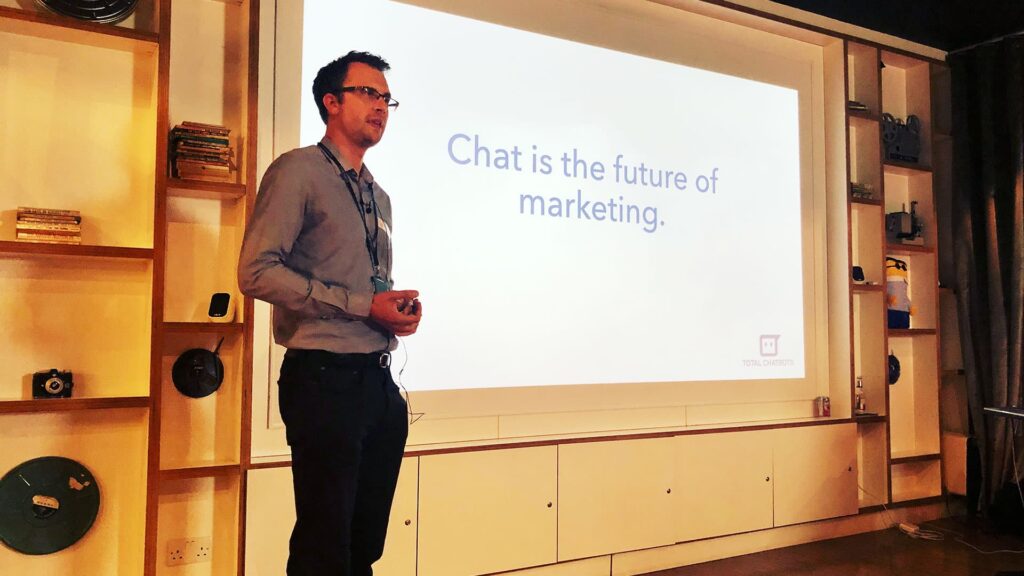 Wes gave a presentation with the intention of debunking the myths about chatbots, and the first thing he did was recognise that many people have had frustrating experiences with 'bad' chatbots, and he explained that good chatbots really do exist and that they are extremely useful. Wes went on to explain why chatbots are such a powerful tool for modern businesses:
They're available 24/7
They don't take days off work
They can manage several conversations at the same time
They maintain brand consistency
They can integrate across multiple channels (website, Facebook, WhatsApp, etc)
Wes explained many of the key principles of good chatbot design, which included understanding your customers' objectives (and your own business objectives), designing good conversation flow, creating good A.I, using good data, and imbuing your chatbot's language with plenty of on-brand personality. Wes also explained the recent stats that showed chat and text-based interactions were on the same current level as social media and that they are predicted to overtake social media within the next two years.
He also gave us recent stats that illustrated how receptive younger audiences are to chatbots — how they actually prefer the medium to having a conversation over the phone. Wes explained how businesses can use chatbots as a marketing tool and he made this especially relevant to the tourism sector. It was great having Wes in to talk to us, and we're sure that by the end of his presentation everyone was significantly more convinced about the application and usefulness of chatbots.
Connecting and Promoting your Products Through Global Travel Agencies — David Bulloch from Travelport
The second speaker of the evening was David Bulloch from Travelport, who had come in to take part in an informal Q&A with Chris Torres, our Travel Massive chapter leader and the founder of TMA. Chris asked David a range of questions about Travelport's extensive collection of tourism-centric tools and services. Travelport is a huge company — the biggest we've had here at Travel Massive Glasgow, so it was great for our members to get a little more insight into how the big players work.
For anyone who is unfamiliar with Travelport, it might interest you to know that they work with 400 airlines, 650K hotels, and 37K car hire companies. We suggest checking out their website (link above). Travelport works across every aspect of travel, but usually for larger companies who need bespoke tools and services. A large part of their work involves connecting mutually supporting services — which involves identifying what kinds of services customers need at different points into their holiday-planning process. If someone has booked flights, what other services are they still looking for? Car rental? Accommodation? Day tours? At what point in the customer's buyer journey should you put these other travel services in front of them? It's these kinds of concerns that David addressed in the Q&A.
David answered many of Chris's questions and some astute questions from the Travel Massive audience. We covered the various tools and ideas Travelport uses and we also delved into the world of destination marketing. In relation to tourism marketing, David mirrored Sumner Redstone's old adage that 'Content is King' — an idea that has fully permeated the SEO industry. There was far too much to cover with David in such a short period, so the Q&A felt a little more like a teaser into the illustrious world of high-end travel technologies. Perhaps we can tempt David back in the future and go into a little more depth about a specific topic.
November's Travel Massive Glasgow Event
Unfortunately, Chris Torres and Jess Gregory are away at Arival's big Orlando in-destination tourism event at the end of October, so we aren't meeting in October. That means that the next big meet-up for Travel Massive Glasgow is in November. We are meeting at the Radisson Red on Finneston Quay where we'll hear from Lee McGregor from Mitchell MacGregor Public Relations and Matt Smith from Primal Adventures. Register for November's event here.  We're looking forward to November, but please don't wait until then to get in touch if you have any questions — either about Travel Massive or about TMA working with you to improve your digital marketing potential. 
Need more free advice?
Chris and his team will send you a weekly email offering high-value insight and advice about a variety of marketing and business development topics related to the tourism industry. We address specific destinations, tours and activities, and the hotel industry. We also provide important travel industry news and updates.