Arival and the Tourism Marketing Agency go way back, and I'm a huge fan of what it's doing. I tell you this to demonstrate that I haven't been asked to write this article; I'm just a big fan.
I've written this blog to help inform anyone thinking about going to one of Arival's events. My advice is to get your finger out and just do it — you won't regret it. For me and the Tourism Marketing Agency team, Arival is, hands down, the best event dedicated to tours and activities.
What is Arival?
Some of you may be asking "What is Arival?". Arival is the brainchild of Alex Kremer, Douglas Quinby and Bruce Rosard who have over 50 years' industry experience behind them. Alex is the co-founder or Redeam, a channel manager serving activities and attraction operators, Douglas was the Senior Vice President of research at Phocuswright, and Bruce was also at Phocuswright collaborating with Douglas as well as managing his own successful tour business.
These guys have lived and breathed the tour and activity sector and felt it was time that someone created an event/convention dedicated to the best part of travel. If you're interested, you should read more about Arival's mission on the website.
Conventions Made Specifically for Tour Operators
For those of us who travel the event circuit, visiting the likes of WTM, ITB, Fitur, and many others, it is abundantly clear that the tour and activity sector is more of an afterthought at these events. They are more focused on destinations than on individual suppliers. Arival flips this on its head by providing talks with key industry figures like Dermot Halpin of TripAdvisor, Christian Watts of Magpie Travel, and Jason Morehouse of Checkfront, and by organising many other expert speakers from a wide range of niches and technology platforms.
Everything Arival includes in its events is all done to help guests understand what's happening in the tours and activities market and how they can grow their tour business.
I personally love the event as I get to help and advise business owners either face-to-face or through workshops — and I love finding out months later that my advice has helped some businesses on their journey. This is the reason that the upcoming event in Orlando will be our third time at Arival.
I understand that the cost of getting there, accommodation, and entry may seem like a lot — especially when you combine this with the time you 'lose' managing your business. But I guarantee you will gain far more back from Arival in terms of advice, growth, development and business connections.
Understanding Tour Operators
My own business has helped many who have attended past Arival events and we have been lucky enough to count some other guest companies as partners. Arival has helped us grow and better understand the pain points that tour operators and suppliers face. It is why we are already planning our visit to Arival Berlin next March— which happens to be over my 45 birthday, so extra special celebrations will be on hand.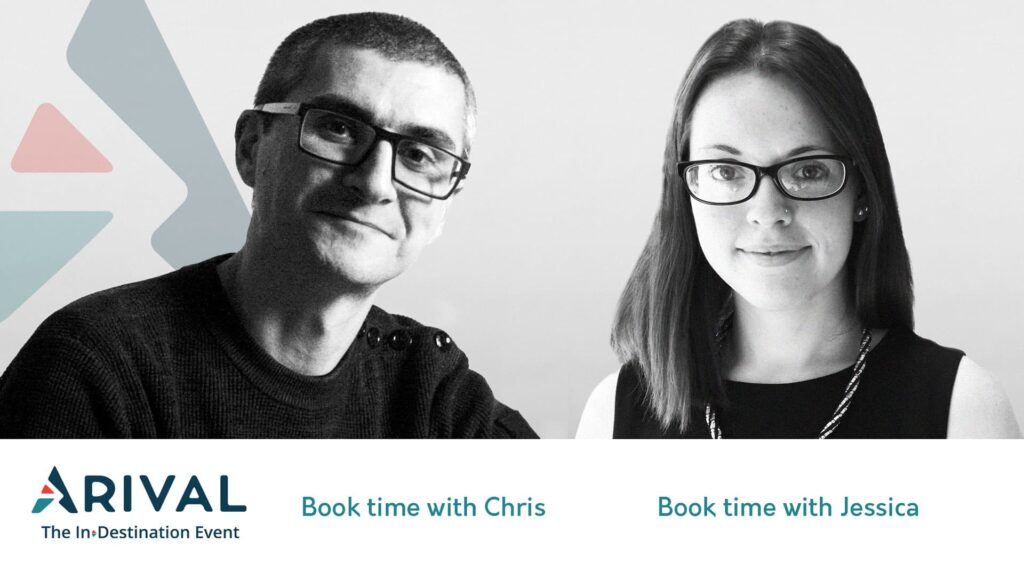 If you are going to Arival, or are thinking about it, please feel free to book in a chat with me and/or Jessica. We're happy to meet and chat before, during, or after the event. Register your interest here.
If you want to register for Arival, you can do so here.
Both Jessica and I look forward to meeting you there!
Need more free advice?
Chris and his team will send you a weekly email offering high-value insight and advice about a variety of marketing and business development topics related to the tourism industry. We address specific destinations, tours and activities, and the hotel industry. We also provide important travel industry news and updates.