It's been a year since I wrote The Digital Battle for Tours and Activities, an article which I thought would be a one-off piece of content but now may become a yearly event. So much has changed during this last year, with the likes of Booking Holdings acquiring FareHarbor, AirBNB 'investing' in Tiqets, as well as the fight for our sector between these OTAs and Google.
Google is making big strides into the tours and activity space, testing the water with Touring Bird, which has now been closed and 'folded' into their travel team, making tours and activities bookable within Google search and maps, bypassing the OTAs – well the ones not also directly integrated… which I am still against, by the way. Everyone wants a piece of the tours and activity pie. No wonder, as it has a reported worth of $180 billion and it will only continue to grow.
However, this article is not intended to discuss who purchased who as with this article, I want to highlight a major and, in my honest opinion, dangerous situation many OTAs are giving tour and activity providers with in regards to competing for direct bookings. It may even have a detrimental effect on Google's business.
Direct bookings matter… a lot!
I have said it before and I will say it again: if, rather than focusing on your own marketing efforts and channels you rely heavily on OTAs and other platforms to send you bookings and generate most of your revenue, then you do not have a business. You are nothing more than a commodity to them. Now, this may be no issue for you and if it's not, power to you, however most businesses I speak too want to grow a brand and their business, not be under the rule of another. This is why most of us become business owners in the first place.
The issue I have is the 'battle' for our industry means that it is becoming harder for any tour or activity business who wants to grow direct bookings through Google – whether through search or Google Ads – because the large OTAs like TripAdvisor and Booking Holdings are spending the obscene amounts of the revenue they generate from the commission they charge you to compete against you. These organisations are competing against the very suppliers and businesses that grew their brands in the first place. Why? Because they want more of your hard-earned profit margins than people booking direct with you. Most of the time, the OTAs are making a loss in doing so, just to capture your customers for future bookings on their platform.
Here is an example for the search term 'Barcelona Bike Tour'. We found ads from TripAdvisor, Viator (owned by TripAdvisor), and Get Your Guide. You will also see that an ad appeared for TripAdvisor next to one of their suppliers…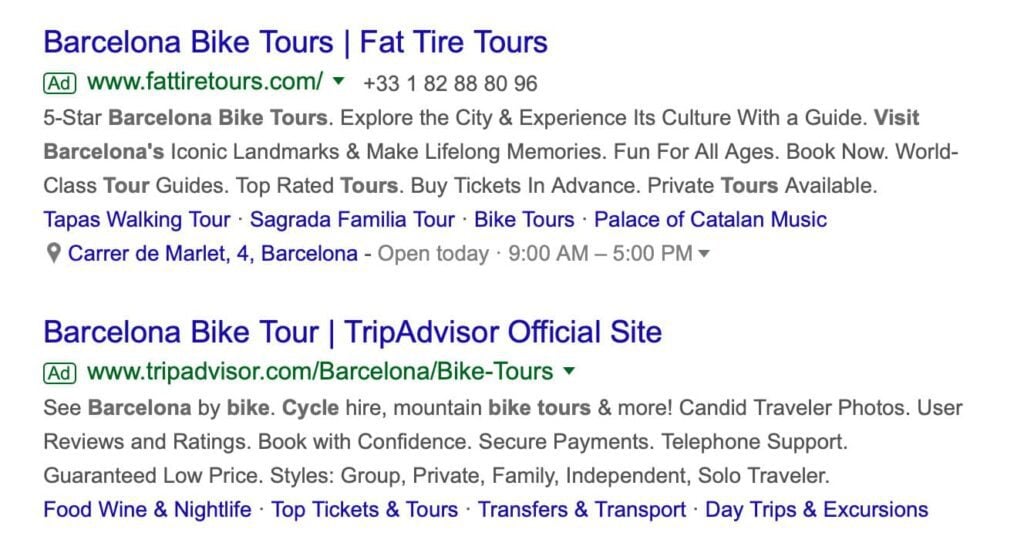 Clicking on the TripAdvisor listing, we see Fat Tire Tours at the top of the list and that other tours in the listing are also available direct from the following operators:
Let's take Fat Tire Tours' product as an example, as they appear at the top of TripAdvisor's listing. Fat Tire Tours' 'Half Day Barcelona Bike Tour' comes in at a cost of £28 per person, with an average cost per click (CPC) for the key phrase 'Barcelona Bike Tour' at £1.01.

The operator will also pay TripAdvisor in the region of 30% commission (which will increase in time) so they are potentially losing £9.41 per booking (£28 – 30% – £1.01 CPC). Multiply that by the capacity for each tour, which is 15, and this operator is losing between £65.87 (if people are booking in pairs) and £141.15 in revenue and profit per tour to OTAs, making, at best, £278.85 per tour, if at full capacity. Add to that their staffing and operating costs and the numbers simply do not add-up. In other words…
Google Ads + Other Marketing + OTAs + Commission + Operating costs = Unsustainability.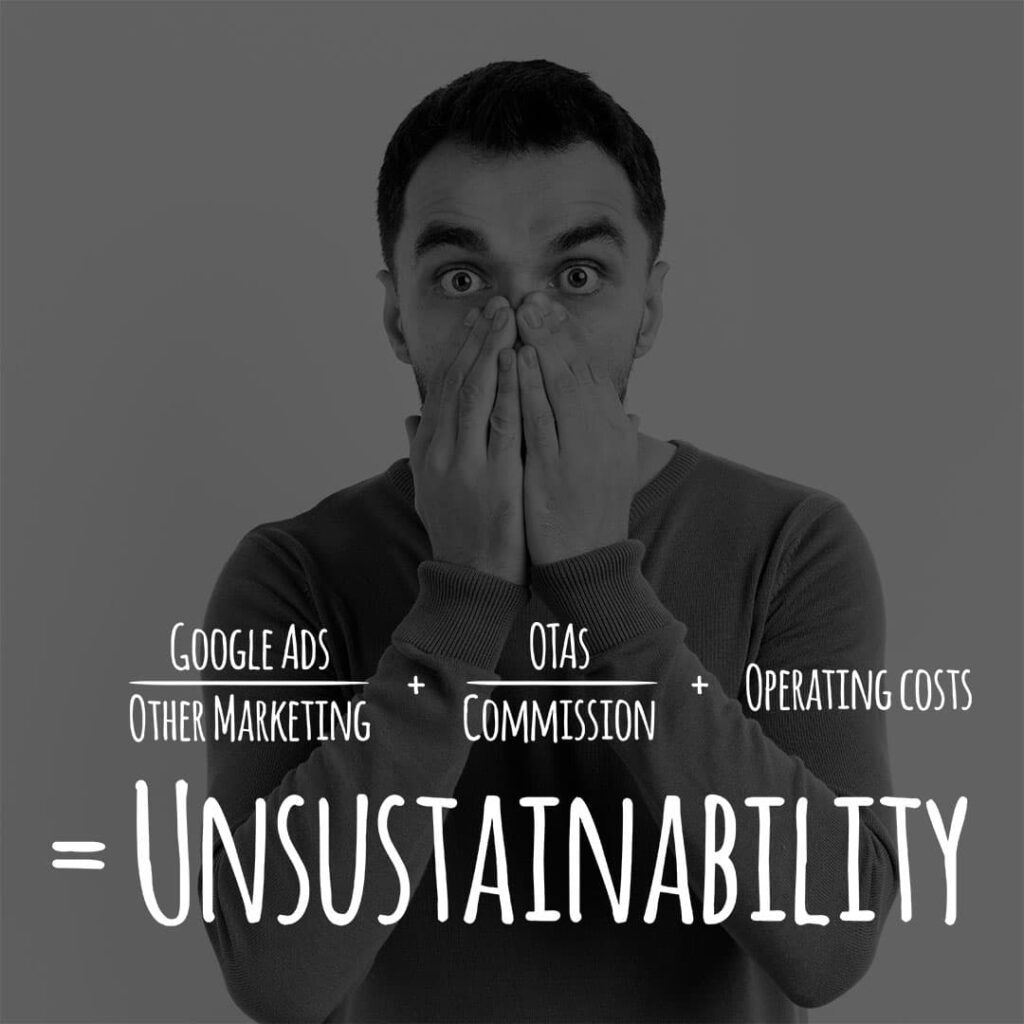 I know this is only focusing on one tour and most businesses will take revenue as a whole from all tours, but I hope you get the point. OTAs are helping to drive up the cost of Google Ads, making the cost per acquisition (CPA) higher for many operators.
If you take into account the average CPA of £48 (for every 48 clicks, you get, on average, one booking), then it is even more eye watering. Let's say most of these bookings are for at least two people at a time, the £56 in revenue generated is cut to just £8! £28 x 2 people – £48 CPA = £8 profit before operating costs. This does not even include the Facebook Ad that appeared once I visited their site!
This is simply not sustainable for tour and activity suppliers.
Speaking with the equally outspoken Peter Syme, owner of Splash and 1000 mile journeys, he too has abandoned Google Ads as a marketing channel, in favour of Facebook. Here is what Peter had to say:
"After over 15 years of using Google Ads, I have stopped. The OTAs are just better at it than me and have deeper pockets. They even use our brand name in their ads. I just made the decision to let them win the PPC battle and I have focused my marketing on social channels and niche SEO, where I can still win… for now! Social is an underpriced market just now; it is where Google PPC was around 2003-06. Operators can do well with social and have direct relationships with their guests which is their only strategic advantage in the digital era."
Looking at the stats taken from SEMrush, TripAdvisor are generating 3 million clicks from paid ads, spending close to $4.6 million… in just one month!

And in terms of paid search volume, they are way above their competitors…
Is this bad news for Google too?
So far, you may feel I have completely abandoned Google Ads as a method to generate revenue. Far from it, but you do need to pick your battles and make sure you have the budget to compete. This is one of the reasons why we advise that you do not put your full product range on an OTA, but to add those tours you wish to test or the products you find harder to sell directly.
For Google, this is potentially bad news as, from our own findings and from speaking with others in the industry, more and more operators are abandoning Google Ads in favour of Facebook Ads. The issue with this is that most operators simply advertise products directly on Facebook, just like they would on Google – except Facebook is a completely different beast. You can find out more about my views in my upcoming Facebook Ad Funnel Workshop.
While Google is generating a lot of cash from OTAs who run Google Ads, they are equally losing out on those businesses who wish to market directly. OTAs only cover around 10% of the market share, so for now it may not seem like a big deal, but as they grow their influence this is going to hit Google hard in the future. We may even start to see the emergence of another search platform taking precedence. Probably not, but it's not an impossibility.
Of course, Google is making its own plays in the tours and activities sector and will no doubt create something that will eat into the profits of the OTAs, but to me this could be a good thing if it means putting the control back into the hands of the operator. Some of the big OTAs have complained that Google is getting too big for its boots and posted a drop-in profits, wiping out a combined market value of more than $13 billion from the three big online travel agents, making a severe dent in their shares, and making their investors nervous.
On the other hand, in a recent interview for Phocuswright, Glenn Fogel, CEO of Booking Holdings – another major player in this space – did not seem too concerned with Google and is focusing his own business on direct bookings, wishing to bypass Google and other OTAs altogether:
"For our company we absolutely believe the best way to make sure we have a strong future is to have people come direct."
Can anyone see the irony here?
This is affecting other industries too
As the owner of a tourism marketing agency, we are also seeing the effect of the OTA dominance in this industry, with companies looking at alternative ways to market their business. Now, we can adapt and use platforms like Facebook extensively, but marketing agencies, consultants, and freelancers may find they need to refocus their skill sets.
Change is urgently needed
With the growth of OTAs within our industry, I feel change is needed and needed as a matter of urgency. If they continue on this current trend, one of becoming the dominant, customer-facing brand, effectively making you, the tour and activity provider nothing more than an Uber driver – an 'employee' of the OTA, with no control over your sales channels and no 'right' to your customers' data, it will kill the very heart of our industry.
Operators pride themselves on the customer relationships they build and nurture and this will be lost behind a brand that they do not control. I believe rules must be set to protect the operators, like a non-compete clause, stopping OTAs from competing against the very suppliers they are meant to 'support'. This would be a start, at least.
TripAdvisor, Booking Holdings, Get Your Guide, and the many OTAs can all play an important part in helping to build operators' businesses, but when does it become detrimental to these businesses and the industry as a whole? Unfortunately, I believe we may be there already.
The time is now for the industry to decide… allow OTAs to dominate our market or take back control, grow direct bookings, and become a successful brand in our own right. If we decide the former, I fear the industry will lose its soul.
Need more free advice?
Chris and his team will send you a weekly email offering high-value insight and advice about a variety of marketing and business development topics related to the tourism industry. We address specific destinations, tours and activities, and the hotel industry. We also provide important travel industry news and updates.